Pest Inspection Brisbane
With Termites (also known as white ants) causing more damage in Australia than flood, fire and storms combined, it's increasingly more important to have a Pest Inspection done when purchasing a home. Advancements in technology allow Sound Building Inspections to offer one of the most thorough Pest Inspections on the market. There are several different termite species in Australia and all having different feeding and breeding characteristics. So having years of termite experience and being backed with state-of-the-art equipment you can have peace of mind knowing we are the right company for the job.
The Pest Inspection equipment we use.
Our Pest Inspectors have a number of tools available to them which include;
FLIR Thermal Imaging Camera
High Resolution Digital Camera
Termatrac T3i (Worlds most advanced Termite Detection Tool)
Digital Moisture meter
Acoustic Probe
Digital Boroscope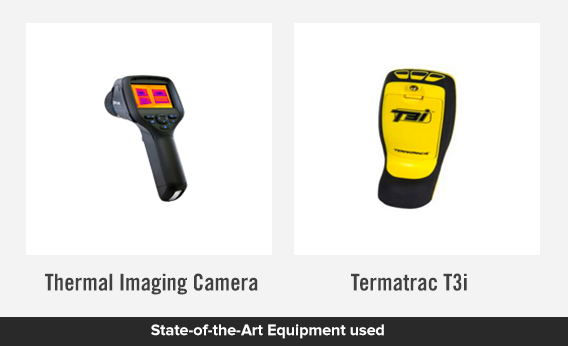 What is involved in a Pest Inspection
A timber pest inspection is conducted by a licensed and certified timber pest inspector who examines all accessible areas of the house for timber pests. Examples of a timber pest is Termites, Wood Borers, Mould and Wood Fungi. The timber pest inspector looks for past, current and future issues the property may have. Future issues also known as conducive environments can be fixed to reduce the risk of termite damage. These can be as simple as removing garden beds away from the house.
What areas are examines during a Pest Inspection?
If safe and access is permitting the pest inspector will examine the following areas;
Roof
Roof Space
Internal Rooms including carpentry and joinery (kitchen)
External (decking, pergolas)
Sub Floor (Underneath the house)
Outbuildings
Fence lines
Retaining walls
Garden Beds
What if Termites are found?
If termites are found on the property it's definitely not panic stations. We can give you an accurate quote on the cost of a termite treatment and also what it would take to further termite proof your house with a termite barrier. We use an industry leading chemical called Termidor for amazing results in destroying termites and termite nests.
So if you are in the market for a property get your Pest Inspection done by one of best building and pest inspection companies in Brisbane, Sound Building Inspections.